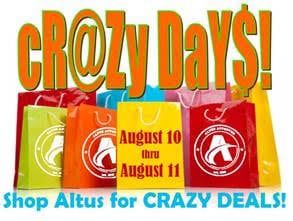 The annual Crazy Days two-day sales event will be Friday and Saturday August 10 and 11 at retail stores throughout Altus. Participating retailers will have discounted pricing and special sales on select merchandise.  Crazy Day's is the annual End-of-Summer and Back-To-School sales shopping experience. The following retailers have indicated that you can shop crazy deals at their stores.
This is a current list as more may join as the weekend approaches:
Abby Lane Vintage & Curious Finds
Belles and Beaux
The Booterie
Cato Fashions
Lady Austin's
Cotton Candi Boutique
Cotton Patch
Cotton Pickin' Kids
Crown Jewelry
Custom Graphics
Enchanted Door
Gator's Western Wear
Gem's Etc.
H & H Furniture
Just Brew It Coffee House
The Market Place
Shoe Sensation
The Wishing Well
A number of these stores will remain open on Friday until 6:00 PM and will serve refreshments and wine. Check with your favorite retail store for their specific sales and store hours.
The Altus Chamber of Commerce gets crazy excited about the Crazy Days event and encourages shoppers to spend their money locally. Shopping with local merchants supports and grows our local economy. According to Rodger Kerr, President and CEO of the Altus Chamber of Commerce, reminding our community that shopping with local merchants supports and grows our local economy is a message worth repeating over and over again.  Kerr says, "Crazy Days is meant to be a fun time as school begins and we near the end of summer.  In years past, Crazy Days was a festive event and we want to continue that tradition."
During this years' Crazy Days weekend, one lucky shopper will win a cash prize.  The Altus Chamber of Commerce is hosting a drawing for $500 to a shopper who brings in a receipt from one of the participating Crazy Days retailers.  Bring a receipt from a purchase made at a participating store dated August 10 or 11, 2018, to the Altus Chamber of Commerce at 301 West Commerce, on the Monday or Tuesday following Crazy Days, August 13 or 14 by 5:00 PM.  One winner's name will be drawn on Wednesday, August 15.  The person's first and last name and a working telephone number needs to be written on the receipt. The owner of the winning receipt will be notified by telephone.
"This is a fun way to keep shopping dollars right here at home," explains Kerr. "Our local economy's strength is in our hometown businesses." "This is a fun way to say thank you to everyone who shops and supports Altus."
For details about sales and specials, individual businesses may be contacted directly. The Altus Chamber of Commerce supports the Altus and Southwest Oklahoma local economy.