Members of Southwest Rural Electric Association will meet in Vernon on Thursday, August 9, for the organization's 81st Annual Meeting.
The event will be held at the Wilbarger Auditorium, 2100 Yamparika Street, Vernon, Texas.
Because SWRE is a cooperative, its customers are also its members. All SWRE members from throughout the co-op's service territory in Texas and Oklahoma are encouraged to attend.
Registration will begin at 2:00 p.m. and conclude at 6:55 p.m.
Annual meeting gifts will be given to all members at registration. All SWRE members who register at this year's meeting will receive a $25 credit on their SWRE utility bill (One credit per membership).
Since registration will open at 2 p.m., even those members who register during the afternoon but cannot stay for the meeting will receive the gift items, including the $25 bill credit.
SWRE's charitable foundation, Operation Round Up, will be selling hotdogs and chips for a small donation to the foundation.  Hotdogs will be available from 4-5:30 p.m.
This year's entertainment focuses on the co-op's "round-up" initiative.  The western themed event will begin with cowboy movies shown inside the Wilbarger Auditorium from 2pm and continue until the beginning of the live entertainment at 6:15 p.m.  The Southwest Pride Barbershop Chorus out of Lawton, Oklahoma will be performing a 45-minute western-themed show.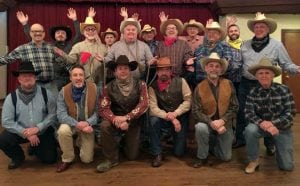 PICTURED:  Southwest Pride Barbershop Chorus out of Lawton, OK will be performing live at the SWRE annual meeting.
The SWRE business session will begin promptly at 7:00 p.m.
Immediately following the brief business meeting, a drawing will be held with more than 100 prizes to be given away, including a programmable thermostat, a GoPro kit, a drone and much more!
Members must be present at the drawing to claim the prizes.
The drawing prizes will include 46 energy certificates that can be applied toward SWRE utility bills. Top energy certificate will be in the amount of $500. The drawing's grand prize will be a 50″ flat-screen LED 4K television!
SWRE is an electric cooperative that serves customers in a 6,000 square mile area of southwest Oklahoma and north Texas. Because it is a cooperative, its customers are also its members and are therefore encouraged each year to attend the annual meeting and take an active part in the democratic process of running their business enterprise.
An annual report has been mailed to each SWRE member. The report contains a registration form and complete information about the annual meeting.
# # #
General Information about SWRE
Southwest Rural Electric Association is headquartered in Tipton, Oklahoma, and also operates branch warehouse operations in Electra, Texas and Vernon, Texas. The cooperative was organized in 1937. It serves approximately 6,000 square miles in eleven counties throughout southwest Oklahoma and north central Texas (in Oklahoma: Jackson, Kiowa, Tillman, Comanche, and Greer Counties; in Texas: Hardeman, Wilbarger, Wichita, Foard, Baylor, and Archer Counties).