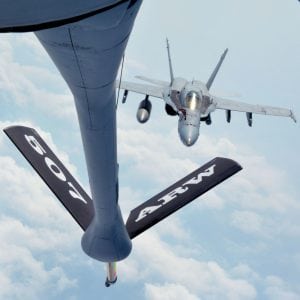 JOINT BASE PEARL HARBOR-HICKAM, HI, UNITED STATES
07.30.2018
Story by Tech. Sgt. Samantha Mathison
Commander, U.S. 3rd Fleet
JOINT BASE PEARL HARBOR-HICKAM, Hawaii – The 507th Air Refueling Wing from Tinker Air Force Base, Oklahoma, sent a team of more than 100 Reserve Citizen Airmen and four KC-135R Stratotankers to Hawaii, June 27 to Aug. 2, in support of the Rim of the Pacific (RIMPAC) exercise.
The team consisted primarily of pilots, boom operators and maintainers, but also included a small support cadre of administration, medical, life support, intelligence, squadron aviation resource management and communication technicians.
The 507th Operations Group commander, Lt. Col. Kenneth Humphrey, explained that outside of a deployment, RIMPAC offers one of the best controlled training opportunities for a tanker unit and allows for unit personnel to gain valuable leadership experience.
"Training includes getting out of town with a large number of personnel to support tanker operations, setting up a working facility and flying missions in a joint service, international environment," Humphrey said. "This type of exercise hearkens back to the past when we, as a single wing, deployed en masse to a location and operated."
The 507th ARW maximized RIMPAC as a training opportunity by rotating personnel and aircraft halfway through the exercise, resulting in two cycles of Airmen attaining an away-from-home-station experience. By July 30, 507th ARW's RIMPAC team offloaded 1.9 million pounds of fuel and flew more than 147 hours, with more to go until the end of the exercise.
According to Humphrey, the dialogue and experience received at RIMPAC goes far beyond normal training for operations and maintenance Airmen.
507th ARW personnel had the chance to work alongside multi-national partners from across the Pacific rim, members of the U.S. military's sister services and Airmen from different air reserve component units.
Twenty-five nations, 46 ships and five submarines, and about 200 aircraft and 25,000 personnel are participating in RIMPAC in and around the Hawaiian Islands and Southern California. RIMPAC is the world's largest international maritime exercise; providing a unique training opportunity while fostering and sustaining cooperative relationships among participants to ensure the safety of sea lanes and security of the world's oceans.
Humphrey said that, as in previous years, the 507th ARW filled the role as the lead tanker unit in RIMPAC; combining Air Force active duty and Reserve personnel from Kadena Air Base, Okinawa, Japan, Grissom Air Reserve Base, Indiana, and the 507th ARW's geographically separated unit, the 730th Air Mobility Training Squadron from Altus Air Force Base, Oklahoma.
"The comradery that comes out of working long hours and executing our assigned mission with multiple units stands out as one of the best parts of RIMPAC," Humphrey said. "I've always been a proponent of the idea that unit cohesion in an increased operations tempo goes a long way in improving mission effectiveness and future retention. RIMPAC gives us an opportunity to do just that."
However, the process of building unit cohesion sometimes comes with a little competition.
507th Aircraft Maintenance Squadron superintendent, Senior Master Sgt. Corey Still, who has attended almost every RIMPAC since 2004, explained that maintainers keep track of how often each units' KC-135s fly.
Maintainers take ownership of their aircraft, so it makes a small statement when one is grounded for maintenance, Still said.
Despite the friendly competitiveness, maintainers set those feelings aside in order to help crews from other units get their issues resolved.
"It's a team effort," Still said. "Whenever something breaks, maintainers from all the tanker units here will go out and combine their expertise in order to get that aircraft back up in the air. At the end of the day, we're all one team with the same goal."
Still explained that together they have to successfully maintain six KC-135s in support of aerial refueling to Navy, Air Force and coalition partners to help ensure the requirements of the exercise are met.
"The Navy determines how many KC-135s they need for RIMPAC and it's a testament to the 507th ARW that we keep getting invited back every two years," he said.
According to Still, it's likely the 507th will be invited back for the next exercise, however this is his last RIMPAC with the unit as he's been selected to fill a chief master sergeant's position at McConnell Air Force Base, Kansas.
Still said that he hates to leave the Okies, but couldn't have asked for a better send-off than going to RIMPAC one last time with the Airmen of the 507th ARW.
Hosted biennially by Commander, U.S. Pacific Fleet (PACFLT), and executed by Commander, U.S. 3rd Fleet (C3F), RIMPAC 2018 is the 26th in the series that began in 1971.
This year's exercise includes units or personnel from Australia, Brunei, Canada, Chile, Colombia, France, Germany, India, Indonesia, Israel, Japan, Malaysia, Mexico, Netherlands, New Zealand, Peru, the Republic of Korea, the Republic of the Philippines, Singapore, Sri Lanka, Thailand, Tonga, the United Kingdom, the United States and Vietnam.
The 507th Air Refueling Wing is the largest Air Force Reserve Command flying unit in the state of Oklahoma. The 507th ARW reports to Fourth Air Force and performs daily missions both locally and around the world in support of Air Mobility Command and U.S. Strategic Command's national emergency war order requirements, operating out of Tinker Air Force Base.
The wing operates and maintains eight KC-135R Stratotanker aircraft providing world-wide aerial refueling to U.S. and NATO aircraft in times of peace, war, and national emergency.
The 507th ARW Reserve Citizen Airmen fly three to four missions daily and off-load millions of pounds of fuel in support of operations worldwide. The 507th ARW flies more than 3,000 hours annually in support of national defense requirements.
The 507th ARW trains aircrew on the Reserve KC-135 and the Reserve C-17 Globemaster III at a geographically separated unit, the 730th AMTS at Altus AFB, where KC-46 Pegasus flight training will begin in the near future.